we choose eeziquartz because...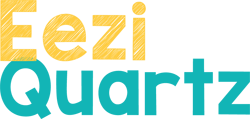 EEZIQUARTZ RANGE AVAILABLE @stonematrix
Quartz is non-porous and resists stains much better than granite and marble. With it being non-porous, making it easier to clean, avoiding bacteria buildup.
What does the price include?
ALL prices include material, manufacture and installation by an independent registered installer®. To convert your estimate into a formal quotation, send us your final measurements and specifications.
Need measurements done? No problem! We can connect you with an independent registered installer, backed by the @stonematrix brand, who will assist you with your measurements, templates and installation.